Founder: Jonathan E. Reyman, Ph.D.
Origin Date: 1982
Purpose:
To provide wild turkey, macaw, and parrot feathers to the Pueblo Indians of the American Southwest for traditional religious ceremonies to help them maintain their 1st Amendment rights under the Constitution.
To eliminate the smuggling of endangered and threatened species of macaws and parrots, and, in turn, to reduce the destruction of native bird populations and their habitats in Latin America.


To eliminate feather plucking by providing specific Pueblo people with the particular feathers they need so that they will use only molted feathers from their birds.

Feather Sources: Turkeys: NWTF member hunters, other hunters, and zoos. Macaws and parrots: Zoos, bird clubs, breeders, bird owners, and rescue and rehabilitation facilities.


Please Note: The large number of requests on our waiting list requires that, as of 12 August 2011, we will no longer accept new or repeat requests for feathers.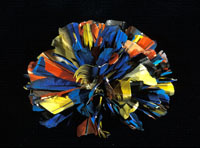 All feathers are precious.
This Sandia Pueblo man's ceremonial head ornament is made from broken and cut macaw and parrot feathers. Published with permission from Sandia Pueblo
THE PROJECT NEITHER BUYS NOR SELLS FEATHERS, BUT SHIPPING COSTS ARE GLADLY REIMBURSED UNLESS OTHERWISE DIRECTED.

There is NO charge for feathers. They are a gift.
HOWEVER, IT IS ILLEGAL FOR US TO SEND FEATHERS FROM EAGLES, HAWKS, OTHER RAPTORS, PASSERINES, AND MIGRATORY BIRDS. WE NEVER HAVE FEATHERS FROM THESE BIRDS.
Personnel: Jonathan E. Reyman & volunteers.
Results: Since 1982, the Project has distributed about 11,000,000 feathers free- of-charge to 32 Pueblos.
Donations: Send feathers to:
Dr. Jonathan E. Reyman
Illinois State Museum Research & Collections Center
1011 East Ash Street Springfield, IL 62703-3500
(217) 785-0069
E-mail: reyman@MUSEUM.STATE.IL.US